Dear Parents,
One of the realities of raising a neurodiverse child from difficult beginnings is the ever-present challenge of dysmaturity.  That word may be new to you because it is a medical term used to describe a neonatal condition where the baby's brain has not developed at a typical pace in utero.  Most people prefer to use the term "immaturity" when talking about their children, but I think "immaturity" doesn't imply brain development, but rather a momentary behavior, such as "My husband can be so immature when it comes to sharing housework."  This implies that he is otherwise a fully functioning adult man who acts like a teenager when it comes to taking the trash out.
No spouse feels terrible grief about a husband's behavior when making a quip like that.  Usually kidding or, even if serious, there is no deep well of shame over the situation in the way we, parents, often have; shame when explaining the dysmaturity of our neurodiverse children who chronically display lagging skills; and agonizing bewilderment when regressive behaviors occur in the midst of a group of neurotypical peers.
I remember my 15-year-old son learning to ride a small two-wheeler bike around our neighborhood.  Yes, he was learning to balance at 15, not 7. He would regularly come in with skinned body parts from falling off his bike.  He would also regularly come in saying children chased him and bullied him when he was riding by their houses.  It was only after much discussion that I discovered these were 7-8 year-old-boys. The discussion broke my heart.
My son wanted nothing more than to be a typical boy and yet only found little children to play with who ended up being mean to him. His dysmaturity showed up at some point and then he became fodder.  They had him riding away in true fear. He could have gotten off his bike and stood up because his height alone would have caused them to turn tail—but he didn't.  He was too scared of these children, half his chronological age, to realize how much bigger and older he actually was.
I used coaching, role play, encouragement, and empathy to help him understand what was happening and to learn how to defend himself by simply standing his ground.  It wasn't simple for him.
We often rehearsed before he left the house and we debriefed when he came home.  We circled back to the same material many times over the course of two years until he matured in a spurt one day and told me he got off his bike and yelled "Shoo!" at the children chasing him.  He was so proud and triumphant.  I was happy for him, though inside my heart still ached for how hard his dysmaturity was for him.
I wish I could tell you that he never cowered again after that momentous day, but that would be a Sandra Bullock movie.  His life was and is not a movie.  It does have a happy middle though.  Not the story I would have written for him, but one that he is happy with now at 23.
When your child spurts and sputters to get a story out, hides behind a chair instead of playing at a birthday party, growls, hisses and barks during a playdate, tips the board game over when losing, or only finds younger children to play with, take heart. Steel yourself. Regulate. This is not shameful, hopeless, or bad behavior; it is dysmaturity.
Your children need empathy, repetitious coaching, concrete examples, rehearsal, patience, circling back for review, celebrating wins, and you doing your own self-care, so you don't lose heart on the journey from dysmaturity to maturity.  They do slowly grow.  Our job is to make sure their esteem is intact as they do.
Love Matters,
Ce
P.S.  Join our Love Matters Parenting Society Membership–a Therapeutic Parenting Membership for Thriving While Raising Children from Difficult Beginnings.
Go to www.lovemattersparenting.com to read all about it.
Everyone is welcome to join our free public Love Matters Parenting Group on Facebook. 
HIATUS: NO SUPPORT GROUP until further notice. ADOPTION SUPPORT GROUP is taking time off.  Let Jen know at jen@attachplace.com if you would like to be notified when the support group upstarts again.
If you would like ongoing support, you might be interested in joining The Love Matters Parenting Society above.  Those who are participating are really getting what they came for.  Check it out.
AUTISM Support Group:  Monthly Strictly Social Autism Spectrum Disorder Night for Tweens (11 yrs – 16 yrs) at The Attach Place.
Open to the public. Every third Monday from 5:30 to 7 pm.  Gluten-free snacks provided. Please RSVP to Andrea@attachplace.com so we get enough snacks. This is a  monthly social group for the youth; and caregivers will have an opportunity to connect, chat, and chill in a separate space. There will also be occasional fun field trips, like bowling, ice skating, roller skating, etc. A donation of $5.00 will be accepted for food and supervision if you are able, but please don't let that be an attendance barrier because the group is FREE.  ASD kids need a social life and this is a great way to make it happen.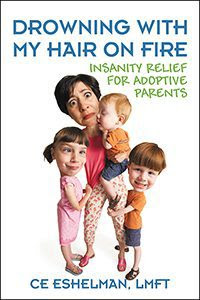 GIVE A BOOK OF SUPPORT TO A FELLOW PARENT ON THE ADOPTION JOURNEY: Drowning With My Hair On Fire: Insanity Relief For Adoptive Parents by Ce Eshelman, LMFT.  Daily inspirational reading for those who sometimes find it hard to keep hope alive. There is hope for healing.  Buy from Amazon or order a discounted copy here.