Dear Parents,
There are two vastly different phases to parenting–the first ten years and the second ten years.   In the first ten years, we spend all of our time teaching, coaching, reminding, supporting, protecting, correcting, ad nauseam.  Our job is creating a foundation for the rest of their lives–say please and thank you, don't hurt people, brush your teeth, wear a coat in winter, don't wear a coat in summer, take pride in your work, and on and on.  This is their foundation.  We do that for our children.
The second ten years, we must learn to control ourselves and our honed lecturing and reminding skills.  The second ten is all about releasing our control and allowing our teens to learn from their own choices, successes, mistakes, and missteps.
I can hear the gasping now.  My sixteen-year-old acts eight half the time.  How in the world can I release my control to him?  Well, that is the art of parenting an attachment challenged, traumatized teen.  It is an art to progressively release control and let our teens make the mistakes necessary to grow in maturity.  (You can substitute pre-frontal cortex here for maturity, if you like.)
Few 16-year-old kids recovering from complex trauma can manage the responsibility of driving, for instance. That's okay. Show that you are truly interested in them learning to drive.   Let them know, humorously of-course, that you are particularly invested in giving up your taxi job.  Also, let them know that taking responsibility for managing their rooms, chores, school work, and friendships will show you that they are ready to, dare I say it, drive.
That's why it is important to give up reminding, cajoling, lecturing, coaching, and insisting the way you might have in the first ten years. He knows. She knows. Teenagers know everything.  Let her prove herself and let her fall on her face, too.  He might be twenty-two before he is close to ready to drive, but it is his responsibility to show you he can manage self-care, personal responsibilities, commitments, chores, and relationships.  By releasing control, you say, I believe you can do it…show me.  Through this process, teens learn that freedom, access, and privilege are directly correlated with their own actions.
Remember, I said second ten because that is how long you have to practice progressively releasing control for them to get to responsible adulthood.  I am not going to scare you here with talk about the third ten years.  Baby steps.
It takes a lot of faith to begin to release control.
 Remember, your love matters!
Ce Eshelman, LMFT
Everyone is welcome to join the free public Love Matters Parenting Group on Facebook. 
HIATUS: NO SUPPORT GROUP until further notice. ADOPTION SUPPORT GROUP is taking some time off.
If you would like ongoing support, you might be interested in joining The Love Matters Parenting Society above.  Those who are doing it are really getting what they came for.  Check it out.
AUTISM Support Group:  Monthly Strictly Social Autism Spectrum Disorder Night for Tweens (11 yrs – 16 yrs) at The Attach Place.
Open to the public. Every third Monday from 5:30 to 7pm.  Gluten-free snacks provided. Please RSVP to Andrea@attachplace.com so we get enough snacks. This is a  monthly social group for the youth; and caregivers will have an opportunity to connect, chat, and chill in a separate space. There will also be occasional fun field trips, like bowling, ice skating, roller skating, etc. A donation of $5.00 will be accepted for food and supervision if you are able, but please don't let that be an attendance barrier because the group is FREE.  ASD kids need a social life and this is a great way to make it happen.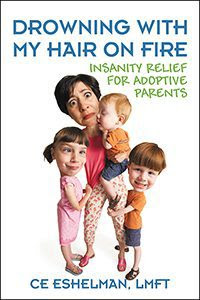 GIVE A BOOK OF SUPPORT TO A FELLOW PARENT ON THE ADOPTION JOURNEY: Drowning With My Hair On Fire: Insanity Relief For Adoptive Parents by Ce Eshelman, LMFT.  Daily inspirational reading for those who sometimes find it hard to keep hope alive. There is hope for healing.  Buy from Amazon or order a discounted copy here.